ISLS Webinar Series
It is with great excitement that we introduce to you the "ISLS Surgical Techniques in Advanced Liver Surgery and Transplantation Webinar Series."
It is a free online webinar opened to all, and it is made for the purpose of supporting ISLS members' desire for continuing education.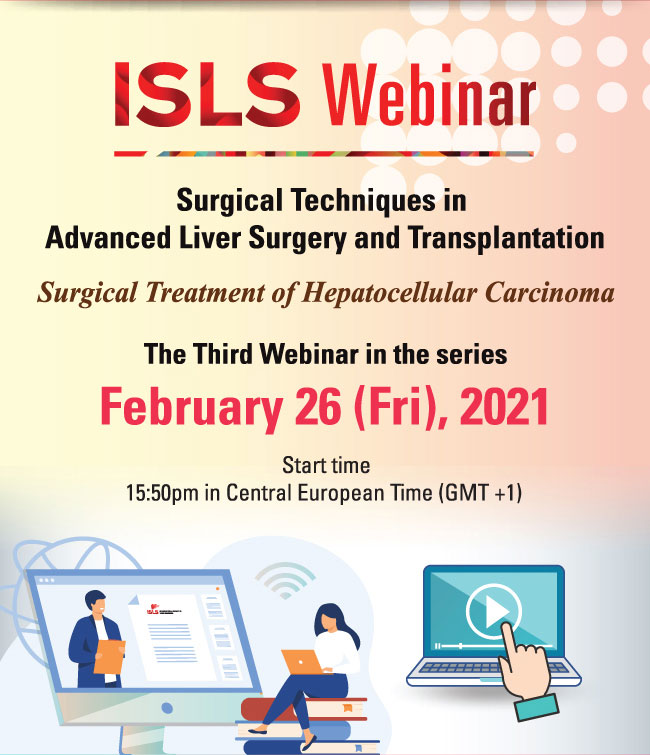 | Webinar Series | Theme | Date | Registrants |
| --- | --- | --- | --- |
| ISLS First Webinar | Laparoscopic & Robotic Donor Hepatectomy | November 20 (Fri), 2020 | 407 registrants from 76 countries |
| ISLS Second Webinar | Alpps Procedure Technical Evolution and Outcomes | December 18 (Fri), 2020 | 296 registrants from 61 countries |
| ISLS Third Webinar | Surgical Treatment of Hepatocellular Carcinoma | February 26 (Fri), 2021 | will be updated after the webinar |
| ISLS Fourth Webinar | TBD | TBD | TBD |
Below is the access link and code for ISLS webinar. The ISLS webinar platform is also mobile friendly so you can watch and listen in on live-stream webinar on your mobile devices.
*Access code is NOT case sensitive.
[Program]
Length
Program
10'
Welcome & ISLS Study Group Introduction

Deniz Balci

Ankara University, Turkey

Session 1. Advanced Resection for HCC (1 hour)
13'
Preoperative Evaluation for Major Liver Resections in Cirrhotic Setting

Shunichi Ariizumi

Tokyo Womens Medical University, Japan

Ki-Hun Kim

Asan Medical Center, University of Ulsan, Korea

7'
Q&A
13'
Patient Selection and Extended HCC Resections in the Cirrhotic Liver: What are the limits

Dong-Sik Kim

Korea University, Korea

Fabrizio Di Benedetto

University of Modena, Italy

7'
Q&A
13'
Minimally Invasive Liver Resections for HCC

Alfred Kow

National University of Singapore, Singapore

Eduardo Fernandes

Hospital São Lucas Copacabana, Rio de Janeiro, Brazil

7'
Q&A
Session 2. Transplantation for HCC (1 hour)
13'
How to Select Best Candidates for Liver Resection or Liver Transplantation

Karim Halazun

Cornell University, USA

Jan Lerut

Institute of Experimental and Clinical Research (IREC), UCLouvain Brussels, Belgium

7'
Q&A
13'
Transplant Benefit in Patients with Advanced HCC: A Personalized approach based on tumor biology

Prashant Bhangui

Medanta the Medicity, India

Gonzalo Sapisochin

University of Toronto, Canada

7'
Q&A
13'
Immunotheraphy for HCC Neoadjuvant / Adjuvant Setting

Parissa Tabrizian

Icahn School of Medicine at Mount Sinai, USA

Dong-Jin Joo

Yonsei University, Korea

7'
Q&A
Register for webinar
[How to register]
Please fill out all required fields including your first name, last name, country and email address.
Upon the completion of your free registration, a registration confirmation letter will be sent to your email, and another confirmation letter including your "access code" will be sent to your email on 1 day before the webinar. You will be able to access the ISLS Single Topic Webinar during the webinar period with the access code provided.