About ISLS Study Group Platform
ISLS Study Groups aim ultimately to increase people's survival and quality of life by sharing the research and innovation in the field of liver transplantation and HPB surgery.
This unique platform was developed to enhance the international collaboration and data capture for the academic activities of ISLS Study Groups.
The ISLS Study Groups Platform, supported by ISLS, is accessible only to ISLS Study Group Members.
For more information, please visit the Study Group platform website: www.islssg.org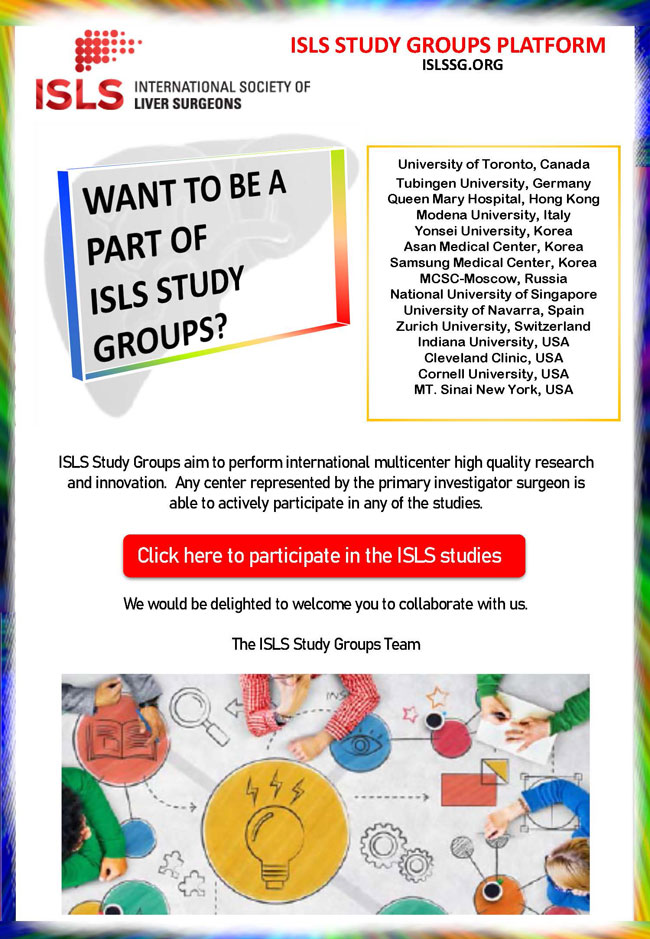 Study Group Leaders
Chair, Scientific Committee of ISLS
Deniz Balci (Ankara University, Turkey)
LIVER TRANSPLANTATION Study Group Leaders
LDLT-RECIPIENT
Dong-jin Joo (Severance Hospital, Yonsei University, Korea)
Gonzalo Sapisochin (University of Toronto, Canada)
LDLT-DONOR
Dong Hwan Jung (Asan Medical Center, University of Ulsan, Korea)
Prashant Bhangui (Medanta Institute, India)
DDLT-RECIPIENT
Dong-Sik Kim (Korea University, Korea)
Karim Halazun (Cornell University, USA)
DDLT-DONOR- Basic Science
Burcin Ekser (Indiana University, USA)
Cristiano Quintini (Cleveland Clinic, USA)
RAPID PROCEDURE
Massimo Malago (University College London, UK)
Pal-Dag Line (University of Oslo, Norway)
Co-investigator Dimitri Raptis (Royal Free Hospital, London, UK)
HPB SURGERY Study Group Leaders
CHOLANGIO CA
Jong Man Kim (Samsung Medical Center, Sungkyunkwan University, Korea)
Silvio Nadalin (Tubingen University, Germany)
HCC
Albert Chan (Queen Mary Hospital, Hong Kong)
Parissa Tabrizian (MT. Sinai New York, USA)
METASTATIC LIVER CA
Henrik Petrowsky (Zurich University, Switzerland)
Ruslan Alikhanov (MCSC-Moscow, Russia)
PANCREAS
Fabrizio Di Benedetto (Modena University, Italy)
Orlando J. Torres (Maranhão Federal University, Brazil)
MINIMALLY INVASIVE LS
Alfred Kow (National University of Singapore, Singapore)
Fernando Rotellar (University of Navarra, Pamplona, Spain)