About Journal
International Journal of Surgery (IJS)
has been selected as the official Journal of ISLS symposium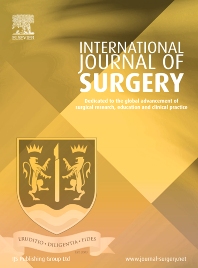 International Journal of Surgery
SCIE, IF 3.158
Elsevier
International Journal of Surgery (IJS) was ranked in Q1 (Field Surgery) in 2018, and its impact factor increased by 17% to 3.158.
For the purpose of sharing knowledge and good practice, the ISLS council decided to publish abstracts presented in ISLS annual symposium. This year, the best 100 abstracts presented during ISLS 2019 symposium have been selected and included in IJS volume 75 supplement.
Furthermore, the ISLS council decided to provide free online access to IJS to all ISLS active members in 2020-2021. Members can access all the issues of IJS during their active 2020-2021 membership period for free, originally worth USD 76 per member. From 2021 membership renewal, members can subscribe to the IJS at a discount rate of USD 50.
If you are not an active member, please join or renew your membership now to receive this exclusive membership benefits!